Over Tellow
Tellow is een snelgroeiend fintech-bedrijf, ondersteund door top investeerders uit London en New York. Ons jonge, ambitieuze team werkt vanuit een gloednieuw kantoor aan het water in Amsterdam en zet zich in om freelancers volledige financiële controle te geven. Na een totale financiering van $144 miljoen te hebben ontvangen, is Tellow klaar om te innoveren, te bouwen én te groeien. Recentelijk is aangekondigd dat we een bank gaan worden om ook bankrekeningen en betaalkaarten aan kleine bedrijven uit te geven. We zoeken daarom versterking in onze teams en zijn op zoek naar getalenteerde mensen die deze missie met ons op willen pakken!

Over de rol

Het marketing team is verantwoordelijk voor de groei van Tellow, het merk en het waarborgen van een positieve klantervaring. In de rol van Content Marketing Intern word jij onderdeel van dit ambitieuze team.
Je gaat aan de slag, samen met de rest van het team, om de leukste content te maken en dit weg te zetten op de juiste plekken. Je doet onderzoek naar de doelgroep en bepaalt mede de contentstrategie. Je krijgt de unieke kans om mee te werken in een ambitieuze start-up en een serieuze impact te maken binnen ons marketingteam.
Wat ga je doen?

Als Content Marketing Intern ga je:
Content creëren en optimaliseren om onze zoekmachine ranking en aanmeldingen te verbeteren
Een content strategie en roadmap ontwikkelen
E-mails voor terugkerende marketingcampagnes opzetten en lanceren
Samenwerken met de Performance Marketeer om de 'core messages' in onze online advertenties te verbeteren
Verschillende content zoals whitepapers, video's, templates en blogposts maken
Wie ben jij?

Je volgt een hbo of wo opleiding, bij voorkeur in de richting van marketing, journalistiek, communicatie of iets vergelijkbaars
Je hebt ervaring met schrijven
Je beheerst de Nederlandse taal uitstekend en kunt een gesprek voeren in het Engels
Je bent flexibel, ambitieus en ondernemend
Je bent nieuwsgierig van aard, en vindt het leuk om je in te lezen in totaal nieuwe onderwerpen
Affiniteit met mobiele applicaties en digitale oplossingen is een pré
Je bent woonachtig in omgeving Amsterdam en kunt werken vanuit ons mooie kantoor
Je bent minimaal 4 maanden beschikbaar
Wat bieden wij?

We zijn een toegewijd team met een ambitieuze missie, maar plezier hebben tijdens het werk staat bij ons voorop. Als je stage komt lopen bij Tellow krijg je:
Veel verantwoordelijkheid en mogelijkheden om jezelf te ontwikkelen
Een marktconforme stagevergoeding
Een eigen werkplek in een mooi, nieuw kantoor met uitzicht over het IJ
Toegang tot de beste online marketing tools
Een open werksfeer, waarin je eerlijke feedback kunt geven en ontvangen
Jonge, gedreven collega's die van een feestje houden
Solliciteren

Denk je dat deze rol iets voor jou is? Solliciteer dan direct via onderstaande knop.
About

Ageras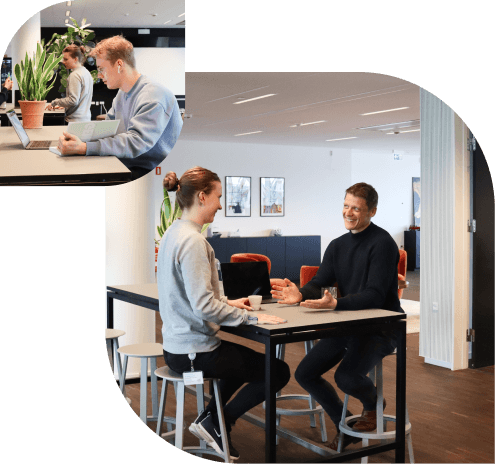 About

Ageras

At Ageras Group, we enabling success for small businesses by building the best ecosystem around their financial needs. With a well-preserved start-up spirit, we are today an ambitious group of fintech-companies with around 350 employees operating across 12 markets in Europe and the US.

As the home of Kontist, Billy, Meneto, Tellow, Salary, Zervant, and Ageras Marketplace, and being financially backed by Investcorp, Rabo Frontier and Lugard Road Capital, we are on a mission to revolutionize the financial industry.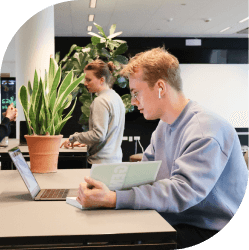 The group is a built on a passion for entrepreneurship. Serial entrepreneurs Rico Andersen and Martin Hegelund founded Ageras in 2012 and has since turned their vision into a global venture with a strong offering.
Ageras Group is the home of Billy, Tellow and Ageras Marketplace. Each brand has a unique offering enabling success for small and micro-businesses, we are currently active in Denmark, Sweden, Norway, the Netherlands, Germany and United States.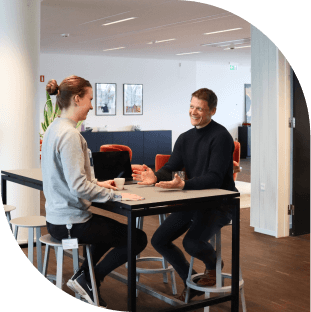 Working
benefits
At Ageras Group, we take fun seriously, because motivated Agerians equal happy clients and partners. We go the extra mile to ensure that our employees come motivated and happy to work and thrive in our dynamic, international work environment.
Office Snacks
Still hungry after enjoying the best lunch in town? Don't worry, we offer snacks, sodas, coffee, tea, etc. to keep your energy up.
Growth Opportunities
Explore our career opportunities and grow your professional skills across our various products and international offices.
Social Gatherings
Get to know your colleagues by joining our weekly Friday bars, Board game nights, company parties, sport competitions and other social events.
Central & Modern Offices
Modern offices with all facilities to make work fun, from gaming room, great meeting facilities to lounge areas. Located centrally to ensure easy commute to work.
Scale-up environment
Join our passionate and entrepreneurial teams and be able to contribute with your ideas and skills to our exciting growth journey.
What our
employees
say
I've had the pleasure to be part of Ageras for most of its journey – and what a journey!
Ageras is not a company maintaining the status quo, it is a living organism – always adapting, always moving, always growing. The mindset of "just because something works, does not mean that it cannot be improved" is something incredibly valuable.

Zuzana Repova
Head of Product Marketing
Getting to do this with the all Micro Heroes in Ageras is what makes the journey so exciting!
After being a part of Ageras for almost a year, I have come to learn and enjoy the high paced work-environment that characterizes the company. Together with my skilled colleagues, we aim to be the best at helping both microbusinesses and our partners grow their businesses, by finding the perfect match for both parties.

Andreas Selset
Head of Client Consulting
An adventure which develops, improves, and gives me a lot of learning which brings excitement, energy and smiles to me and my colleagues every day. The sum of all that is what gives me the passion to give our customers the best start and onboarding in Meneto.

Nikolaj Kjøller-Hansen
Onboarding Manager at Meneto
Working at

Ageras Group
Together we believe we can achieve great success and we are on a mission to conquer the world.
Not the right fit?
Explore these
similar opportunities
Frequently asked
questions,
answered.
Who can I turn to if I have questions throughout the recruitment process?
You are always welcome to reach out to HR and Talent Acquisition if you have any questions about our recruitment process, an open position or more generally about working at Ageras Group.Phone number: 31791715
What do Ageras Group look for in a potential candidate?
At Ageras Group, we don't have our mind set on an "ideal" candidate. Instead, we aim for diversity in all aspects, and are proud to be represented by employees with all possible professional and academic backgrounds and with 19 different nationalities. However, what we all do have in common (and what we also would like to see in our next employee) is that we thrive in an everchanging environment and always strive to do better.
What does your recruitment process look like?
A recruitment process at Ageras Group will most often look something like this:
Quick telephone screening – 1st interview – Assessment – 2nd interview - Hire
Read more about the 1st and 2nd interview below.
How should I prepare for a 1st interview?
If you are invited in for a 1st round interview, it's because you have made a great first impression! Now we just want to get to know you better, and equally important - give you a chance to get to know us. The best advice we can give you is to be yourself. We will probably come well around your CV, but we would also like to know who you are when you are not at work. Maybe you have some cool hobbies, a totally unrealistic dream in life or an impressive party trick? Also, remember that we are here to answer all your questions as well. So fire away!
How should I prepare for a 2nd interview (/test-feedback)?
By now, we have must likely spoken a couple of times and hopefully feel that we know each other relatively well. For this 2nd interview, however, we will use the assessment you have done as a basis for dialogue about your approach to work and your professional behavior and mindset. Our goal is to come around your preferences, development areas and strengths so that your potential new manager will know how to create the best possible conditions for you and your employment.
In other words, we don't expect much preparation from your side, expect for a bit of reflection about the above.
How should I dress for an interview at Ageras Group?
Dress as you! At Ageras Group, we don't really have a dress code. Some like sneakers and hoodies, while others are more comfortable in a crisp shirt and polished shoes. Wear what you feel comfortable and confident in – so will we.
Can I apply for more than one job?
Sure thing! If there's more than one job you could see yourself in, then that's great! Just remember to express why this exact position is (also) the right match for you.
When can I expect to hear back from you after I have applied for a job?
We respect the time you have put into applying for one of our jobs, and do our best to get back to you as soon as we possibly can. Sometimes we manage get back to you within a couple of days, other times after a couple of weeks. However, you can always trust that we will get back to you within a maximum of four weeks.
Regardless if we see you as a good fit or not as the best fit this exact time around, you will ALWAYS hear back from us.
How long are vacancies open for applications?
We rarely operate with application deadlines. Instead, we keep each position open until we have found the very one. However, as a rule of thumb, you can expect a vacancy to be open for at least a couple of weeks.
What if I'm currently not based in the location for the job I'm interested in?
Awesome! We welcome applicants from all countries with a working permit in the country where the job is localized. Currently, we are proud to be represented by 19 different nationalities, and would love for the number to be even higher!
If you are invited to a physical interview in another country than you are currently residing in, we will of course reimburse all costs related to travelling.
In terms of relocating, we are not able to offer any relocation package, but will be happy to put our expertise at your disposal and help as much as we can.