Automations & journeys are your passion?
Great! We are looking for a CRM Manager (m/f/d) to join our growing, ambitious marketing team at Kontist being a part of Ageras.
We are looking for a determined, solution-oriented, dynamic person who will actively support the team. You are not afraid to lead the way and take initiative? Do you love to communicate and take the lead? Then it's a match!
About the job:

Your expertise is needed to convert existing leads into customers by exposing them to the right content at the right time based on their behavior patterns.
Your day-to-day work will involve:
Develop and implement a CRM strategy based on automated lifecycle and behaviorally triggered communications to move leads through our funnel and convert them to paying customers.
Be responsible for holistic cross-channel (email, push, in-app) customer communications that keep our customers active and create "aha moments".
Use your test & learn mindset to constantly become more efficient.
Create CRM reports to measure the performance of all actions against predefined KPIs and optimize our performance based on them.
Be an active creator of customer loyalty and increase our referral rate.
Open up new communication channels to reach potential customers in the best possible way.
Be a contact and stakeholder at the interface between Marketing, Customer Success, Product, and Operations.
Actively influence the increase of the customer lifetime value of our customers by discovering and maximizing upselling and cross-selling potentials.
Requirements
To succeed in this role you:
You bring 5+ years of professional experience in CRM and email marketing in a leadership role.
You have good expertise in implementing complex lifecycle and behavior triggered communication strategies in a CRM tool such as Hubspot, Intercom, Salesforce.
You have excellent analytical skills and a good understanding of web analytics platforms such as Google Analytics.
You have a customer-centric approach to everything you do - you start with the customer and work backwards from there.
You demonstrate enthusiasm for changing an entire industry - hands-on, as well as working in a challenging and inspiring environment.
Due to the German market we expect that a majority of the work will happen in German. Mixed with our international set up we require fluency in German and English - written and spoken.
You live in or can relocate to Berlin to work from our Berlin office.
Benefits
We help you succeed by offering:
A subsidized Urban Sports Club Membership (some great USC partners are in close proximity to the office)
Daily free Smunch Office Lunches
30 days of annual holidays
An extra vacation day on your birthday
500,00 € to upgrade your home office workspace
We work in a hybrid model, with minimum 3 days a week in office culture.
We have of course a beautiful office space with plenty of room (also for dogs), with two terraces, a large events kitchen where there are always snacks, drinks, and regular team events. Our office is located in the heart of Berlin Friedrichshain (less than 10 minutes walking from Ostkreuz station).
Do you like to travel the world? Then you have the opportunity to work in our offices in Copenhagen, Amsterdam, Gdansk, Helsinki, and Philadelphia.
Interested in applying?:
We would love to hear from you if you are excited to join our team. Please submit your CV and cover letter to address why you and Kontist match via the Apply button. You can add further information such as a portfolio to showcase your campaigns and projects you worked on.
Research shows that while men may apply for a job even if they just meet 60% of the job criteria, women tend to apply only if they meet 100% of the criteria. We encourage you to apply even though you may feel you do not meet all the criteria. If you have any questions, feel free to connect with our People and Culture team's Talent Acquisition Specialist Nadine Loyal-Perk, (linkedin.com/in/nadineloyal-perk/, +49(0)152 089 28 584) who is supporting the hiring process.
About the company:
With offices located in Copenhagen, Helsinki, Berlin, Amsterdam, Gdansk, and Philadelphia, Ageras is a leading international provider of banking and accounting services assisting small businesses across Europe and the US with tax preparation services and admin software. Our 4 main products include a cloud-based business admin & accounting software, business banking, financing for SMEs, and a marketplace to connect business owners with accountants. Through our high-end digital tools, products, and services, we aim to build the best ecosystem around the financial needs of small businesses, reduce their administrative tasks, and enable them to focus on their core deliverables.
This position will primarily work with our German-market customers of Kontist. With all our product offerings we are currently serving 1 million customers in 12 countries.
Equal Opportunity Employer:
Ageras is an Equal Opportunity Employer. We follow the principle of equal treatment to consider all job applicants and do not discriminate on the basis of their gender, sexual orientation, colour, racial or ethnic origin, religion, disability etc. as per applicable law.

#LI-DNI
About

Ageras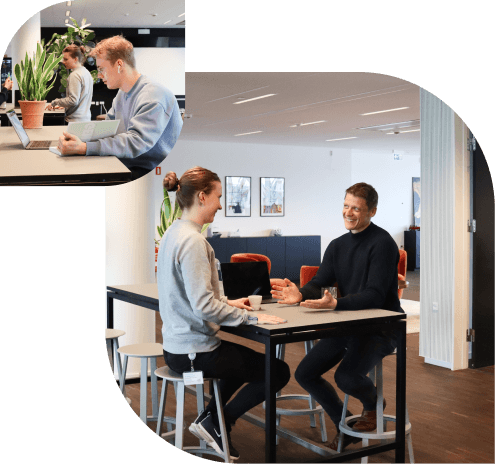 About

Ageras

At Ageras Group, we enabling success for small businesses by building the best ecosystem around their financial needs. With a well-preserved start-up spirit, we are today an ambitious group of fintech-companies with around 350 employees operating across 12 markets in Europe and the US.

As the home of Kontist, Billy, Meneto, Tellow, Salary, Zervant, and Ageras Marketplace, and being financially backed by Investcorp, Rabo Frontier and Lugard Road Capital, we are on a mission to revolutionize the financial industry.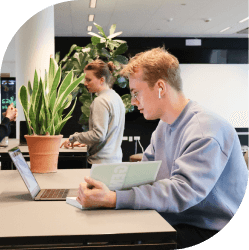 The group is a built on a passion for entrepreneurship. Serial entrepreneurs Rico Andersen and Martin Hegelund founded Ageras in 2012 and has since turned their vision into a global venture with a strong offering.
Ageras Group is the home of Billy, Tellow and Ageras Marketplace. Each brand has a unique offering enabling success for small and micro-businesses, we are currently active in Denmark, Sweden, Norway, the Netherlands, Germany and United States.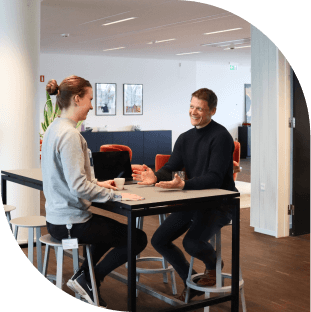 Working
benefits
At Ageras Group, we take fun seriously, because motivated Agerians equal happy clients and partners. We go the extra mile to ensure that our employees come motivated and happy to work and thrive in our dynamic, international work environment.
Office Snacks
Still hungry after enjoying the best lunch in town? Don't worry, we offer snacks, sodas, coffee, tea, etc. to keep your energy up.
Growth Opportunities
Explore our career opportunities and grow your professional skills across our various products and international offices.
Social Gatherings
Get to know your colleagues by joining our weekly Friday bars, Board game nights, company parties, sport competitions and other social events.
Central & Modern Offices
Modern offices with all facilities to make work fun, from gaming room, great meeting facilities to lounge areas. Located centrally to ensure easy commute to work.
Scale-up environment
Join our passionate and entrepreneurial teams and be able to contribute with your ideas and skills to our exciting growth journey.
What our
employees
say
I've had the pleasure to be part of Ageras for most of its journey – and what a journey!
Ageras is not a company maintaining the status quo, it is a living organism – always adapting, always moving, always growing. The mindset of "just because something works, does not mean that it cannot be improved" is something incredibly valuable.

Zuzana Repova
Head of Product Marketing
Getting to do this with the all Micro Heroes in Ageras is what makes the journey so exciting!
After being a part of Ageras for almost a year, I have come to learn and enjoy the high paced work-environment that characterizes the company. Together with my skilled colleagues, we aim to be the best at helping both microbusinesses and our partners grow their businesses, by finding the perfect match for both parties.

Andreas Selset
Head of Client Consulting
An adventure which develops, improves, and gives me a lot of learning which brings excitement, energy and smiles to me and my colleagues every day. The sum of all that is what gives me the passion to give our customers the best start and onboarding in Meneto.

Nikolaj Kjøller-Hansen
Onboarding Manager at Meneto
Working at

Ageras Group
Together we believe we can achieve great success and we are on a mission to conquer the world.
Not the right fit?
Explore these
similar opportunities
Frequently asked
questions,
answered.
Who can I turn to if I have questions throughout the recruitment process?
You are always welcome to reach out to HR and Talent Acquisition if you have any questions about our recruitment process, an open position or more generally about working at Ageras Group.Phone number: 31791715
What do Ageras Group look for in a potential candidate?
At Ageras Group, we don't have our mind set on an "ideal" candidate. Instead, we aim for diversity in all aspects, and are proud to be represented by employees with all possible professional and academic backgrounds and with 19 different nationalities. However, what we all do have in common (and what we also would like to see in our next employee) is that we thrive in an everchanging environment and always strive to do better.
What does your recruitment process look like?
A recruitment process at Ageras Group will most often look something like this:
Quick telephone screening – 1st interview – Assessment – 2nd interview - Hire
Read more about the 1st and 2nd interview below.
How should I prepare for a 1st interview?
If you are invited in for a 1st round interview, it's because you have made a great first impression! Now we just want to get to know you better, and equally important - give you a chance to get to know us. The best advice we can give you is to be yourself. We will probably come well around your CV, but we would also like to know who you are when you are not at work. Maybe you have some cool hobbies, a totally unrealistic dream in life or an impressive party trick? Also, remember that we are here to answer all your questions as well. So fire away!
How should I prepare for a 2nd interview (/test-feedback)?
By now, we have must likely spoken a couple of times and hopefully feel that we know each other relatively well. For this 2nd interview, however, we will use the assessment you have done as a basis for dialogue about your approach to work and your professional behavior and mindset. Our goal is to come around your preferences, development areas and strengths so that your potential new manager will know how to create the best possible conditions for you and your employment.
In other words, we don't expect much preparation from your side, expect for a bit of reflection about the above.
How should I dress for an interview at Ageras Group?
Dress as you! At Ageras Group, we don't really have a dress code. Some like sneakers and hoodies, while others are more comfortable in a crisp shirt and polished shoes. Wear what you feel comfortable and confident in – so will we.
Can I apply for more than one job?
Sure thing! If there's more than one job you could see yourself in, then that's great! Just remember to express why this exact position is (also) the right match for you.
When can I expect to hear back from you after I have applied for a job?
We respect the time you have put into applying for one of our jobs, and do our best to get back to you as soon as we possibly can. Sometimes we manage get back to you within a couple of days, other times after a couple of weeks. However, you can always trust that we will get back to you within a maximum of four weeks.
Regardless if we see you as a good fit or not as the best fit this exact time around, you will ALWAYS hear back from us.
How long are vacancies open for applications?
We rarely operate with application deadlines. Instead, we keep each position open until we have found the very one. However, as a rule of thumb, you can expect a vacancy to be open for at least a couple of weeks.
What if I'm currently not based in the location for the job I'm interested in?
Awesome! We welcome applicants from all countries with a working permit in the country where the job is localized. Currently, we are proud to be represented by 19 different nationalities, and would love for the number to be even higher!
If you are invited to a physical interview in another country than you are currently residing in, we will of course reimburse all costs related to travelling.
In terms of relocating, we are not able to offer any relocation package, but will be happy to put our expertise at your disposal and help as much as we can.