Financial controller
Trives du i et internationalt, ambitiøst og tempofyldt miljø, hvor vækst og faglig udvikling går hånd i hånd, og hvor du har masser af selvstændighed?

Er du et vidensmæssigt powerhouse når det kommer til regnskab og IFRS, og besidder du en solid forretningsforståelse?
Så håber vi du har lyst til at læse videre, for du kunne meget vel være det helt rigtige match til vores Financial Controller stilling.
Hvem er vi?

Ageras er en ambitiøs samling af fintech-virksomheder, med en fælles mission om at hjælpe små virksomheder til succes. Vi er på en fantastisk vækstrejse, og har brug for en kollega med stærke regnskabs-kompetencer på vores team.
Hvorfor arbejde hos Ageras?
Vi går op i vores arbejde, men vi er også seriøse når det kommer til at have det sjovt sammen. Vi har mange sociale arrangementer, og går op i at give dig muligheden og friheden til at udvikle dine kompetencer i den retning du ønsker.
Derudover er vi på en vækstrejse, som skaber løbende muligheder for din videre karriereudvikling.
Teamet

Du bliver en del af vores team bestående af 11 kollegaer med forskellige nationaliteter, der ser det som deres fornemmeste opgave at supportere hele forretningen og have det sjovt sammen imens.
Hvad skal du lave?
Som vores Financial Controller vil du varetage alle aspekter inden for regnskab, samt rapportering og optimering af interne økonomiprocesser. Vi operer internationalt, og du vil derfor være en stor del af at sikre, at vores daglige økonomiske drift forløber glat globalt.
Dine opgaver vil omfatte

At være med til at opbygge og implementere nye processer og systemer til at understøtte krav fra koncernen
Opdatere vores nuværende processer til at blive compliant med IFRS
Momsafstemning og indberetning
Udarbejdelse af materiale til revision i forbindelse med årsregnskab
Interne kontroller og afstemninger
Transfer Pricing
Afstemning og periodisering af balancekonti
Løsning af komplekse regnskabsspørgsmål på tværs af koncernen
Sikring af kvalitetskontrol af transaktioner og finansiel rapportering
Assistere vores Financial Manager med daglig sparring og supportering af øvrige kollegaer i afdelingen
Hvem er du?
For at få succes i rollen er det vigtigt at du trives med at gå den ekstra mil for at levere høj kvalitet og præcise data. Du kan lide at dele ud af din stærke finansielle "værktøjskasse" til dine kollegaer, og som person arbejder du detaljeorienteret og tager ejerskab over dine opgaver.
Du har en relevant teoretisk uddannelse
Erfaring indenfor IFRS
Omkring 4-5 års erfaring fra en lignende rolle eller indenfor revision - gerne i en international virksomhed
Erfaring med at bruge regnskabssystemer (gerne Business Central/Navision)
Solid viden om regnskabsregler - gerne internationalt
Stærke færdigheder i Excel og databaser
Har en analytisk og struktureret tilgang til opgaver og en solid talforståelse samt sætter en ære i der er orden på tingene
Stor erfaring med bogføring og regnskabsmæssige opgaver - gerne internationalt
Flydende dansk og gode engelskkundskaber er påkrævet. Tysk er ikke påkrævet, men betragtes som en fordel
Hvis du ikke føler du opfylder alle kravene til denne rolle, opfordrer vi dig til at søge uanset. Vi ønsker ikke forskelligheder skal stå i vejen for at møde utrolige kandidater, og du er måske det perfekte fit til en anden rolle i koncernen.
Interesseret?
Nu hvor vi har fanget din opmærksomhed, er det tid til at fange vores. Send os dit CV og et par ord om dig selv. Alle ansøgninger bliver løbende vurderet, men du kan forvente at høre fra os inden for 1 uge.
Ansøg venligst direkte eller ring til Lindis Lundahl, People and Culture Specialist på tlf +45 31 79 17 15.
Om Ageras
Hos Ageras muliggør vi succes for små virksomheder ved at bygge det bedste økosystem omkring deres økonomiske behov. Med en ægte "scale-up-ånd" er vi i dag en ambitiøs gruppe af fintech-virksomheder med omkring 310 medarbejdere, der opererer på tværs af 12 markeder i Europa og USA. Som hjemsted for Ageras Marketplace, Billy, Kontist, Salary, Tellow og Zervant, og med økonomisk støtte fra Investcorp, Rabo Frontier og Lugard Road Capital, er vi på en mission om at revolutionere den finansielle industri og erobre verden - intet mindre .
Your job will consist of
Help your team grow their skills and experience
Author project plans for epics
Run agile project management processes
Conduct code reviews, and make technical contributions to product architecture as well as getting involved in solving bugs and delivering small features
Bring new ideas and innovative tools and techniques to the table
Collaborate with Product Managers in order to create an ambitious and exciting proposition
Maintain both short and long-term technical strategy for the division
Be a key team member in our newest team where you will be part of an elite group who will be able to bring fresh ideas to the table
Pioneer our new elite banking division and make history at Ageras Group!
About

Ageras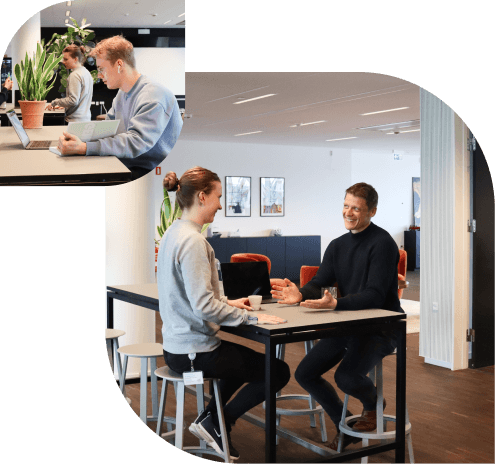 About

Ageras

At Ageras Group, we enabling success for small businesses by building the best ecosystem around their financial needs. With a well-preserved start-up spirit, we are today an ambitious group of fintech-companies with around 350 employees operating across 12 markets in Europe and the US.

As the home of Kontist, Billy, Meneto, Tellow, Salary, Zervant, and Ageras Marketplace, and being financially backed by Investcorp, Rabo Frontier and Lugard Road Capital, we are on a mission to revolutionize the financial industry.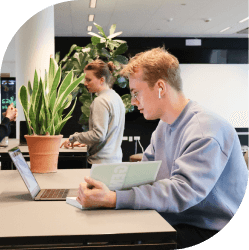 The group is a built on a passion for entrepreneurship. Serial entrepreneurs Rico Andersen and Martin Hegelund founded Ageras in 2012 and has since turned their vision into a global venture with a strong offering.
Ageras Group is the home of Billy, Tellow and Ageras Marketplace. Each brand has a unique offering enabling success for small and micro-businesses, we are currently active in Denmark, Sweden, Norway, the Netherlands, Germany and United States.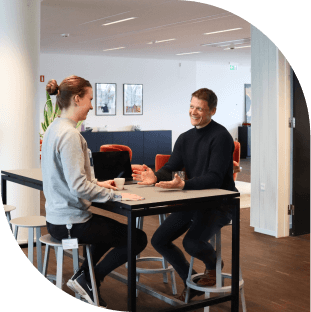 Working
benefits
At Ageras Group, we take fun seriously, because motivated Agerians equal happy clients and partners. We go the extra mile to ensure that our employees come motivated and happy to work and thrive in our dynamic, international work environment.
Office Snacks
Still hungry after enjoying the best lunch in town? Don't worry, we offer snacks, sodas, coffee, tea, etc. to keep your energy up.
Growth Opportunities
Explore our career opportunities and grow your professional skills across our various products and international offices.
Social Gatherings
Get to know your colleagues by joining our weekly Friday bars, Board game nights, company parties, sport competitions and other social events.
Central & Modern Offices
Modern offices with all facilities to make work fun, from gaming room, great meeting facilities to lounge areas. Located centrally to ensure easy commute to work.
Scale-up environment
Join our passionate and entrepreneurial teams and be able to contribute with your ideas and skills to our exciting growth journey.
What our
employees
say
I've had the pleasure to be part of Ageras for most of its journey – and what a journey!
Ageras is not a company maintaining the status quo, it is a living organism – always adapting, always moving, always growing. The mindset of "just because something works, does not mean that it cannot be improved" is something incredibly valuable.

Zuzana Repova
Head of Product Marketing
Getting to do this with the all Micro Heroes in Ageras is what makes the journey so exciting!
After being a part of Ageras for almost a year, I have come to learn and enjoy the high paced work-environment that characterizes the company. Together with my skilled colleagues, we aim to be the best at helping both microbusinesses and our partners grow their businesses, by finding the perfect match for both parties.

Andreas Selset
Head of Client Consulting
An adventure which develops, improves, and gives me a lot of learning which brings excitement, energy and smiles to me and my colleagues every day. The sum of all that is what gives me the passion to give our customers the best start and onboarding in Meneto.

Nikolaj Kjøller-Hansen
Onboarding Manager at Meneto
Working at

Ageras Group
Together we believe we can achieve great success and we are on a mission to conquer the world.
Frequently asked
questions,
answered.
Who can I turn to if I have questions throughout the recruitment process?
You are always welcome to reach out to HR and Talent Acquisition if you have any questions about our recruitment process, an open position or more generally about working at Ageras Group.Phone number: 31791715
What do Ageras Group look for in a potential candidate?
At Ageras Group, we don't have our mind set on an "ideal" candidate. Instead, we aim for diversity in all aspects, and are proud to be represented by employees with all possible professional and academic backgrounds and with 19 different nationalities. However, what we all do have in common (and what we also would like to see in our next employee) is that we thrive in an everchanging environment and always strive to do better.
What does your recruitment process look like?
A recruitment process at Ageras Group will most often look something like this:
Quick telephone screening – 1st interview – Assessment – 2nd interview - Hire
Read more about the 1st and 2nd interview below.
How should I prepare for a 1st interview?
If you are invited in for a 1st round interview, it's because you have made a great first impression! Now we just want to get to know you better, and equally important - give you a chance to get to know us. The best advice we can give you is to be yourself. We will probably come well around your CV, but we would also like to know who you are when you are not at work. Maybe you have some cool hobbies, a totally unrealistic dream in life or an impressive party trick? Also, remember that we are here to answer all your questions as well. So fire away!
How should I prepare for a 2nd interview (/test-feedback)?
By now, we have must likely spoken a couple of times and hopefully feel that we know each other relatively well. For this 2nd interview, however, we will use the assessment you have done as a basis for dialogue about your approach to work and your professional behavior and mindset. Our goal is to come around your preferences, development areas and strengths so that your potential new manager will know how to create the best possible conditions for you and your employment.
In other words, we don't expect much preparation from your side, expect for a bit of reflection about the above.
How should I dress for an interview at Ageras Group?
Dress as you! At Ageras Group, we don't really have a dress code. Some like sneakers and hoodies, while others are more comfortable in a crisp shirt and polished shoes. Wear what you feel comfortable and confident in – so will we.
Can I apply for more than one job?
Sure thing! If there's more than one job you could see yourself in, then that's great! Just remember to express why this exact position is (also) the right match for you.
When can I expect to hear back from you after I have applied for a job?
We respect the time you have put into applying for one of our jobs, and do our best to get back to you as soon as we possibly can. Sometimes we manage get back to you within a couple of days, other times after a couple of weeks. However, you can always trust that we will get back to you within a maximum of four weeks.
Regardless if we see you as a good fit or not as the best fit this exact time around, you will ALWAYS hear back from us.
How long are vacancies open for applications?
We rarely operate with application deadlines. Instead, we keep each position open until we have found the very one. However, as a rule of thumb, you can expect a vacancy to be open for at least a couple of weeks.
What if I'm currently not based in the location for the job I'm interested in?
Awesome! We welcome applicants from all countries with a working permit in the country where the job is localized. Currently, we are proud to be represented by 19 different nationalities, and would love for the number to be even higher!
If you are invited to a physical interview in another country than you are currently residing in, we will of course reimburse all costs related to travelling.
In terms of relocating, we are not able to offer any relocation package, but will be happy to put our expertise at your disposal and help as much as we can.