Du bist ein*e stolze*r Web-Master*in?

Großartig! Wir sind auf der Suche nach einer/einem SEO Manager*in für unser wachsendes, ambitioniertes Marketing Team bei Kontist.
Über uns und den Job:
Kontist ist Teil von Ageras. Ageras bietet einzigartige Kombination von Buchhaltung-, Banking- und Steuersoftware für Selbständigen und KMUs in Europa und USA. Unsere digitalen Tools erledigen lästige, administrative Aufgaben und erlauben unseren Kunden, sich auf ihr Business zu konzentrieren. Wir haben über 1 Mio Kunden in 12 Ländern.
Du beschreibst dich gerne als Webmaster*in und suchst nach der nächsten spannenden Herausforderung? Wir suchen eine*n SEO Manager*in, um unser Team zu bereichern und uns zu helfen, neue Höhen in unserem organischen Wachstum zu erreichen.
Was werden deine Aufgaben sein?
Du entwickelst in Zusammenarbeit mit unserem Head of Marketing und auf Basis von eigenem Keyword Research und aktuellen Trends unsere Content Marketing Strategie und setzt diese um.
Erstellen eines Content-Plans, Umsetzung und Optimierung der vorhandenen SEO-Landing Pages und Artikel.
Du verantwortest die Analyse, Konzeption, Steuerung und Optimierung technischer SEO-Maßnahmen (Crawling, PageSpeed, Index-Management uvm.)
Du erstellst regelmäßig und eigenverantwortlich datengetriebene SEO-Analysen, identifiziert Defizite und Potentiale und gibt Handlungsempfehlungen zur besseren Erreichbarkeit unserer Webseite.
Führe regelmäßig Onsite SEO Audits durch und arbeite eng mit unseren Entwicklern zusammen, um die beste Onsite Structure unserer Webseite zu erstellen.
Du legst Wert auf kontinuierliches Monitoring und datenbasiertes Reporting wichtiger SEO-KPIs, um darauf basierend Initiativen zur Performance-Verbesserung zu starten.
Bleibe in deinem Fach auf dem neuesten Stand und implementiere die besten Trends aus dem SEO Welt
Du arbeitest abteilungsübergreifend und stehst im steten Austausch mit unserem Entwickler-Team und verantwortest die Koordination und Umsetzung wichtiger SEO-Maßnahmen.
Requirements
Was sollst du mitbringen?
Du hast mindestens 3 Jahre Erfahrung im Bereich SEO auf Agentur- oder Unternehmensseite gesammelt.
Du bist extrem datenaffin und verfolgst aufmerksam die aktuellsten Entwicklungen bekannter Suchmaschinen.
Du arbeitest routiniert mit den gängigen SEO- und Webanalyse-Tools (Google Analytics, Search Console, Sistrix, Ryte, Screaming Frog, etc.).
Du hast einen hohen kundenzentrierten Ansatz zu SEO. - Du startest mit dem Kunden und arbeitest von dort rückwärts.
Du verfügst über hervorragende analytische Fähigkeiten und tiefes Verständnis von Webmaster Tools und Web Analytics Plattformen.
Du verfügst über ein ausgeprägtes Sprachgefühl und hast ausgezeichnete Deutsch- und Englischkenntnisse.
Benefits
Was bieten wir an?
Dein Wohlbefinden hat oberste Priorität bei uns. Wir bemühen uns sehr, den Arbeitsalltag für unsere Kolleg*innen so schön wie möglich zu gestalten.

Eine subventionierte Urban Sports Club-Mitgliedschaft (einige großartige USC-Partner befinden sich in unmittelbarer Nähe des Büros)
Täglich kostenlose Smunch Office Lunches
30 Tage Jahresurlaub plus einen zusätzlichen Urlaubstag an deinem Geburtstag
500,00 € zur Aufwertung deines Heimarbeitsplatzes
Wir arbeiten in einem hybriden Modell, mit mindestens 3 Tagen pro Woche im Büro.
Wir haben ein wunderschönes Büro mit viel Platz (auch für Hunde), zwei Terrassen, eine große Event-Küche, wo es immer Snacks, Getränke und regelmäßige Team-Events gibt. Unser Büro befindet sich im Herzen von Berlin Friedrichshain (weniger als 10 Minuten Fußweg vom Bahnhof Ostkreuz).
Du reist gerne um die Welt? Dann hast du bei uns die Möglichkeit, zu unseren Standorten in Kopenhagen, Amsterdam, Gdansk, Helsinki und Philadelphia zu arbeiten.
Klingt spannend?
Wir sind auch sehr gespannt, dich kennenzulernen! Bitte schicke uns deinen Lebenslauf und ein kurzes Anschreiben, warum du denkst, dass Kontist und du ein Match sind. Hast du auch ein Portfolio? Lass deine Erfolge für dich sprechen! Wir freuen uns, Beispiele von Kampagnen und Projekten zu sehen, an die du gearbeitet hast.
Umfragen haben ergeben, dass sich Männer auch dann auf eine Stelle bewerben, wenn sie nur 60 % der Kriterien erfüllen, während Frauen dazu neigen, sich nur dann zu bewerben, wenn sie 100 % der Kriterien erfüllen. Wir ermutigen dich dazu dich zu bewerben, auch wenn du das Gefühl hast, dass du nicht alle Kriterien erfüllst. Wenn du Fragen haben solltest, wende dich bitte an Nadine Loyal-Perk, Talent Acquisition Specialist in unserem People and Culture Team (linkedin.com/in/nadineloyal-perk/, +49(0)152 089 28 584). Nadine unterstützt den Einstellungsprozess.
Über Ageras:
Ageras bietet vielfältige SaaS-Produkte im Bereich Banking, Buchhaltung und Steuer. Das globale Unternehmen ermöglicht dadurch den finanziellen Erfolg von Selbständigen und kleinen Unternehmen in 12 Ländern. Die Fundamente von Ageras ruhen auf Leidenschaft für das Unternehmertum und den Wunsch, dieses für Selbstständige und KMUs zu erleichtern. Die Seriengründer Rico Andersen und Martin Hegelund haben Ageras in 2012 gegründet und verfolgen seitdem die Vision, ein globales Unternehmen mit starkem Angebot aufzubauen.

Kontist gehört zur Ageras. Wir teilen eine Vision und eine Mission - wir ermöglichen den Erfolg von Kleinstunternehmen, indem wir das beste Ökosystem rund um ihre finanziellen Bedürfnisse aufbauen. Mit einem gut erhaltenen Start-up-Geist sind wir heute eine ambitionierte Gruppe von Fintech-Unternehmen mit ca. 250 Mitarbeiter*innen, die in 12 Märkten in Europa sowie in den USA tätig sind. Als Heimat von Billy, Meneto, Kontist, Tellow, Salary, Zervant, Ageras Advisor und Ageras Lending und mit finanzieller Unterstützung von Investcorp, Rabo Frontier und Lugard Road Capital sind wir auf der Mission, die Finanzindustrie zu revolutionieren und die Welt zu erobern – nichts weniger.
#LI-DNI
About

Ageras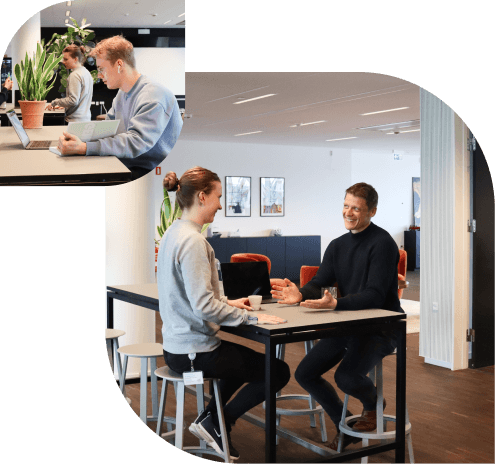 About

Ageras

At Ageras Group, we enabling success for small businesses by building the best ecosystem around their financial needs. With a well-preserved start-up spirit, we are today an ambitious group of fintech-companies with around 350 employees operating across 12 markets in Europe and the US.

As the home of Kontist, Billy, Meneto, Tellow, Salary, Zervant, and Ageras Marketplace, and being financially backed by Investcorp, Rabo Frontier and Lugard Road Capital, we are on a mission to revolutionize the financial industry.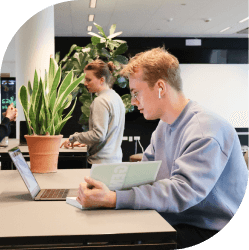 The group is a built on a passion for entrepreneurship. Serial entrepreneurs Rico Andersen and Martin Hegelund founded Ageras in 2012 and has since turned their vision into a global venture with a strong offering.
Ageras Group is the home of Billy, Tellow and Ageras Marketplace. Each brand has a unique offering enabling success for small and micro-businesses, we are currently active in Denmark, Sweden, Norway, the Netherlands, Germany and United States.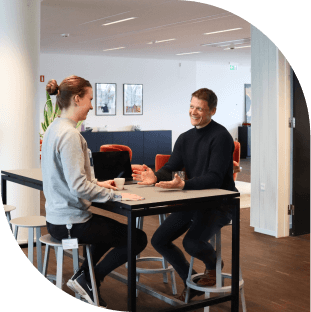 Working
benefits
At Ageras Group, we take fun seriously, because motivated Agerians equal happy clients and partners. We go the extra mile to ensure that our employees come motivated and happy to work and thrive in our dynamic, international work environment.
Office Snacks
Still hungry after enjoying the best lunch in town? Don't worry, we offer snacks, sodas, coffee, tea, etc. to keep your energy up.
Growth Opportunities
Explore our career opportunities and grow your professional skills across our various products and international offices.
Social Gatherings
Get to know your colleagues by joining our weekly Friday bars, Board game nights, company parties, sport competitions and other social events.
Central & Modern Offices
Modern offices with all facilities to make work fun, from gaming room, great meeting facilities to lounge areas. Located centrally to ensure easy commute to work.
Scale-up environment
Join our passionate and entrepreneurial teams and be able to contribute with your ideas and skills to our exciting growth journey.
What our
employees
say
I've had the pleasure to be part of Ageras for most of its journey – and what a journey!
Ageras is not a company maintaining the status quo, it is a living organism – always adapting, always moving, always growing. The mindset of "just because something works, does not mean that it cannot be improved" is something incredibly valuable.

Zuzana Repova
Head of Product Marketing
Getting to do this with the all Micro Heroes in Ageras is what makes the journey so exciting!
After being a part of Ageras for almost a year, I have come to learn and enjoy the high paced work-environment that characterizes the company. Together with my skilled colleagues, we aim to be the best at helping both microbusinesses and our partners grow their businesses, by finding the perfect match for both parties.

Andreas Selset
Head of Client Consulting
An adventure which develops, improves, and gives me a lot of learning which brings excitement, energy and smiles to me and my colleagues every day. The sum of all that is what gives me the passion to give our customers the best start and onboarding in Meneto.

Nikolaj Kjøller-Hansen
Onboarding Manager at Meneto
Working at

Ageras Group
Together we believe we can achieve great success and we are on a mission to conquer the world.
Not the right fit?
Explore these
similar opportunities
Frequently asked
questions,
answered.
Who can I turn to if I have questions throughout the recruitment process?
You are always welcome to reach out to HR and Talent Acquisition if you have any questions about our recruitment process, an open position or more generally about working at Ageras Group.Phone number: 31791715
What do Ageras Group look for in a potential candidate?
At Ageras Group, we don't have our mind set on an "ideal" candidate. Instead, we aim for diversity in all aspects, and are proud to be represented by employees with all possible professional and academic backgrounds and with 19 different nationalities. However, what we all do have in common (and what we also would like to see in our next employee) is that we thrive in an everchanging environment and always strive to do better.
What does your recruitment process look like?
A recruitment process at Ageras Group will most often look something like this:
Quick telephone screening – 1st interview – Assessment – 2nd interview - Hire
Read more about the 1st and 2nd interview below.
How should I prepare for a 1st interview?
If you are invited in for a 1st round interview, it's because you have made a great first impression! Now we just want to get to know you better, and equally important - give you a chance to get to know us. The best advice we can give you is to be yourself. We will probably come well around your CV, but we would also like to know who you are when you are not at work. Maybe you have some cool hobbies, a totally unrealistic dream in life or an impressive party trick? Also, remember that we are here to answer all your questions as well. So fire away!
How should I prepare for a 2nd interview (/test-feedback)?
By now, we have must likely spoken a couple of times and hopefully feel that we know each other relatively well. For this 2nd interview, however, we will use the assessment you have done as a basis for dialogue about your approach to work and your professional behavior and mindset. Our goal is to come around your preferences, development areas and strengths so that your potential new manager will know how to create the best possible conditions for you and your employment.
In other words, we don't expect much preparation from your side, expect for a bit of reflection about the above.
How should I dress for an interview at Ageras Group?
Dress as you! At Ageras Group, we don't really have a dress code. Some like sneakers and hoodies, while others are more comfortable in a crisp shirt and polished shoes. Wear what you feel comfortable and confident in – so will we.
Can I apply for more than one job?
Sure thing! If there's more than one job you could see yourself in, then that's great! Just remember to express why this exact position is (also) the right match for you.
When can I expect to hear back from you after I have applied for a job?
We respect the time you have put into applying for one of our jobs, and do our best to get back to you as soon as we possibly can. Sometimes we manage get back to you within a couple of days, other times after a couple of weeks. However, you can always trust that we will get back to you within a maximum of four weeks.
Regardless if we see you as a good fit or not as the best fit this exact time around, you will ALWAYS hear back from us.
How long are vacancies open for applications?
We rarely operate with application deadlines. Instead, we keep each position open until we have found the very one. However, as a rule of thumb, you can expect a vacancy to be open for at least a couple of weeks.
What if I'm currently not based in the location for the job I'm interested in?
Awesome! We welcome applicants from all countries with a working permit in the country where the job is localized. Currently, we are proud to be represented by 19 different nationalities, and would love for the number to be even higher!
If you are invited to a physical interview in another country than you are currently residing in, we will of course reimburse all costs related to travelling.
In terms of relocating, we are not able to offer any relocation package, but will be happy to put our expertise at your disposal and help as much as we can.